Its less than a week till Valentines day , way not make something special for the person you love. These are so beautiful and they super fun to make.
Ingredients
1 large red apple, cored and very thinly sliced
1 lemon
½ cup of Water
1/4 cup white sugar
2 T ground cinnamon
1 sheet frozen puff pastry, thawed
1/4 cup melted butter
1 egg
Icing sugar to dust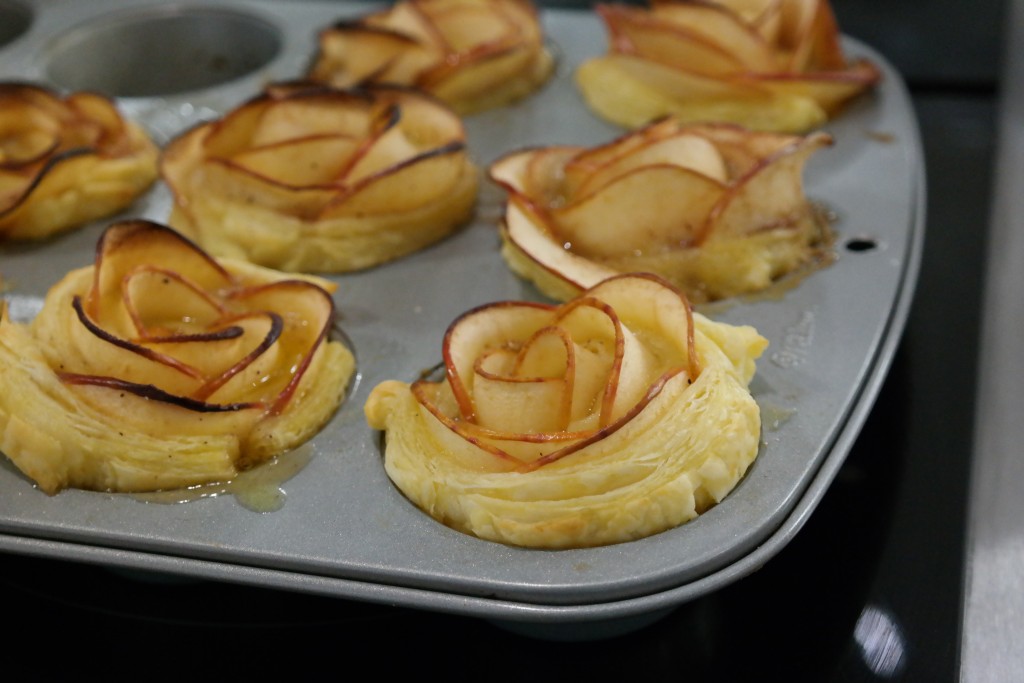 Method
Preheat oven – 200 degrees, spray and cook your muffin tin
Slice your apple into thin slices, keep the skin on.
Place apple slices into a bowl with 1/ 2 cup of water and the juice from one lemon.
Microwave on High about 3 min , mix together the sugar and cinnamon in a bowl.
Roll out puff pastry sheet and cut into 6 pieces
Spread melted butter over dough; top with a generous amount of cinnamon-sugar.
Place apple slices along 1 long edge of dough, about 1/2 cm beyond edge of dough, overlapping slices slightly.
Fold bottom half of dough over the apple slices to form a long "fold" leaving apple slices exposed.
Beat the egg in a bowl. Paint surface of dough with egg wash.
Sprinkle with more cinnamon-sugar, to taste.
Starting from one end, roll dough (not too tightly) to form a rose-shaped pastry.
Seal the roll with a little water/egg wash if needed
Transfer roses to prepared muffin tin.
Sprinkle with a little more cinnamon-sugar on top.
Place muffin tin directly on middle rack of preheated oven.
Bake until well browned, about 45 minutes.
Remove muffin tin allow to cool for a few minutes.
Remove apple roses dust with icing sugar and enjoy.
You can watch me make this from last years appearance on Expresso https://www.youtube.com/watch?v=gE-iJok2uvA
You can also have some fun and make pizza roses, you can do a margarita version or add some salami as the petals . I found this post on you tube , same principle just pizza ingredients.  https://www.youtube.com/watch?v=E8UrrD1BwR4.
Always remember
… Food Is Love …
For more "love-filled" recipes, do not forget to subscribe to my blog.
Follow me on the following Social Media platforms:
Facebook: MasterChef SA Claire Allen
Twitter: @claireallen_sa
Instagram: @claireallen_sa