I have never been grape stomping, and 2016 is the year to do all those things I keep putting off, have dreamt of, considered and not put enough effort into. So with that in mind, I set off for the Eikendal Harvest Festival.
Accompanied by my beautiful friend Sarah we were looking forward to great wine, food and lots of laughs.
The farm's annual festival is in aid of celebrating the harvest, and, more importantly, their flagship wine… chardonnay. R50 entrance allows you bottomless tastings direct from the barrel. There is also food stalls, wine tasting, grape stomping and tractor rides for the kids. No, I didn't go on a tractor ride (maybe next year).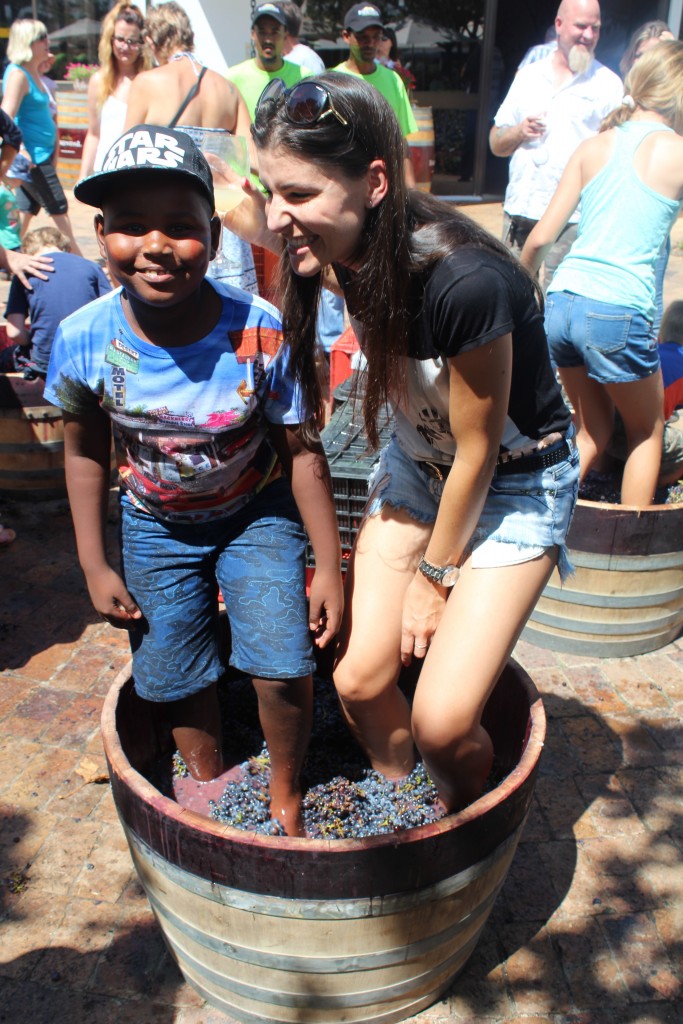 I'll be honest – I was not sure what to expect from the grape stomping experience… It was weird, cold, squishy and hard at times, but it was a good laugh. I seemed to be competing with all the kids, who were more interested than their parents, but I put up a good fight and got my few minutes in the barrel. Of course, I had my wine in my hand and was able to drag Sarah in for a few minutes as well.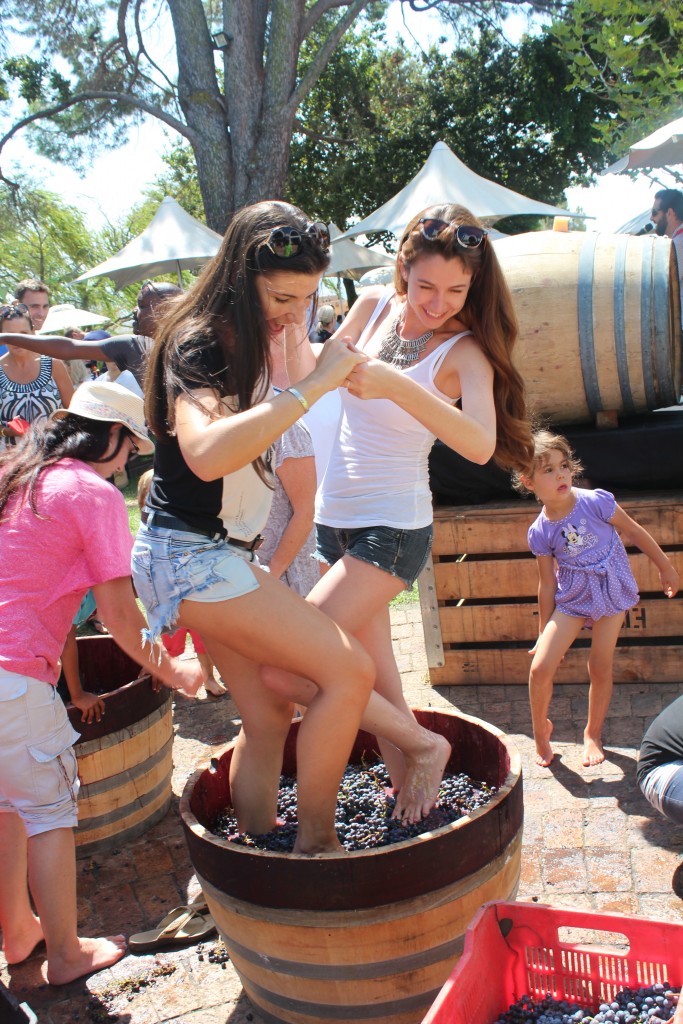 I also had a burger – it was good but lacked a sauce or pesto. I really need to grind my own meat and make a burger. I'm finding that most if not all the patties I'm eating lack not only seasoning, but also that juicy deliciousness a good burger needs (not basting; that is cheating… I'm talking good quality meat, herbs and spices). I see a burger post in all of your futures, lol.
Okay, so obviously my feet were sticky after stomping grapes, and there was no bucket to clean one's feet (I did suggest to organisers to arrange that and they will provide buckets for the next festival) but on my hunt for a tap I made friends with one the restaurant owners. He later brought a bottle of wine over for Sarah and I, and we got chatting. Warren and Dino own Cucina Di Giovanni.
Head Chef Michael agreed that the burger lacked a pesto, which is actually normally served with the burger. He refused to let me leave and go get nachos next door, so we opened up the already locked and cleaned kitchen and got cooking… obviously.
Michael's Quick Prawn and Calamari Pasta
What a delicious pasta… I don't make enough pasta at home. You really can pre-make your sauces or the pasta if needed for convenience. And, if you are wanting gluten free or low carb dinners, why not have it for lunch? If you're like me… running around all day and training hard… a bowl of beautiful pasta might just be what the doctor ordered. Admit it… you all want pasta right now, don't you?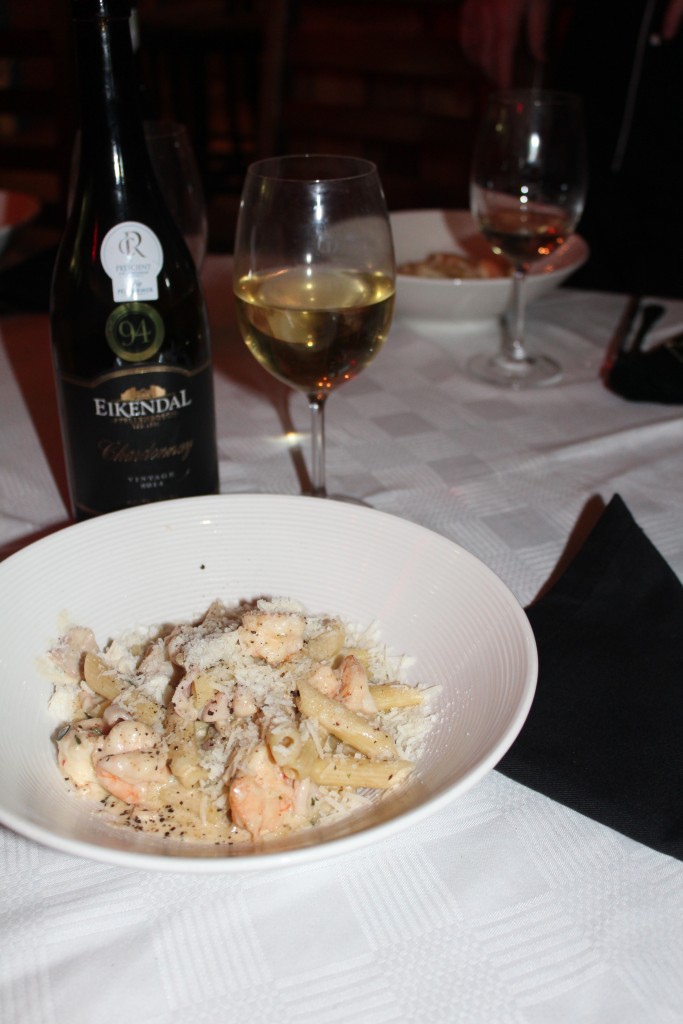 Flash fry shelled, de-veined prawns and scored calamari
Add salt and pepper and white wine (obviously)
Then add basil pesto and chilli, your pre-cooked pasta and some cream
Stir and serve with parmesan
It took under ten minutes, and it was eaten in three minutes flat.
How yummy… Give it a try and tell me about your impromptu cooking nights.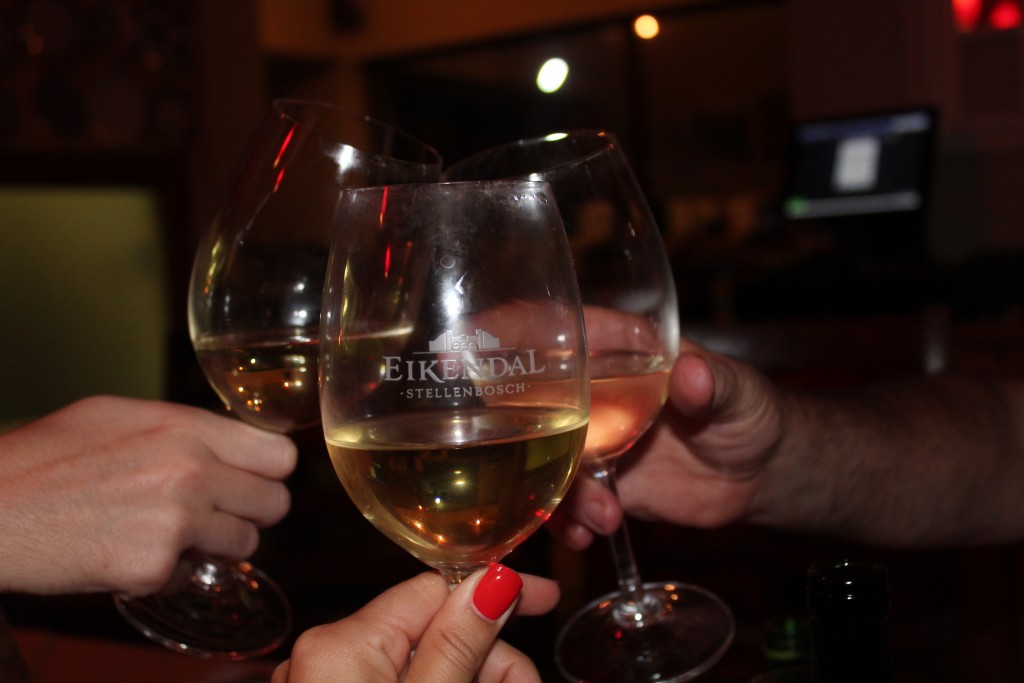 Thank you Eikendal and the team at Gio's. What an unexpected experience that gave me memories to last forever. I can't wait for next year… I know there will be a bucket of water waiting to clean off my feet, pesto on my burger and Michael and I will most definitely be repeating our cook-off session after hours!
Remember
… Food Is Love …
For more "love-filled" recipes, do not forget to subscribe to my blog.
Follow me on the following Social Media platforms:
Facebook: Claire Allen
Twitter: @claireallen_sa
Instagram: @claireallen_sa