I always love new recipes so was eager to try a few for my French Inspired menu for my first Cook With Claire cooking class. Dijon Chicken is a decadent dish that can be made as a family meal or even a treat for a dinner party with friends.
INGREDIENTS
1 teaspoon coriander seeds
2 tablespoons extra-virgin olive oil
8 medium chicken drumsticks
Salt and freshly ground pepper
1/4 cup finely chopped onion
4 garlic cloves, minced
1 1/2 cups low-sodium chicken stock
1/2 cup of white wine
2 tablespoons whole-grain mustard
3 tablespoons crème fraîche
2 teaspoons chopped tarragon
METHOD
In a large pot, toast the coriander seeds over moderately high heat until fragrant, about 2 minutes. Transfer the seeds to a mortar and let cool. Crush the seeds coarsely with a pestle.
In the same pot, heat the olive oil until shimmering. Season the chicken drumsticks with salt and pepper, add them to the pot and cook over moderately high heat, turning, until golden brown all over.
Add the onion and cook, stirring occasionally, until softened, about 3 minutes.
Add the garlic and cook for 1 minute.
Add the white wine and deglaze your pot, cook off your wine
Add your stock and crushed coriander and bring to a boil.
Cover and cook over moderately low heat until the chicken is cooked through, about 15 minutes.
Transfer the chicken to a platter, cover and keep warm.
In a small bowl, whisk the mustard with the crème fraîche and tarragon.
Whisk the mixture into the pot and simmer the sauce over moderate heat until thickened, about 5 minutes.
Return the chicken to the skillet and turn to coat.
 Parsley Crush baby potatoes
INGREDIENTS
20 – 25 baby potatoes
100g butter
Salt and pepper
1 tablespoon of chopped parsley
METHOD
Boil potatoes in a pot till soft
Drain and crush don't mash
Mix in butter and parsley
Season to taste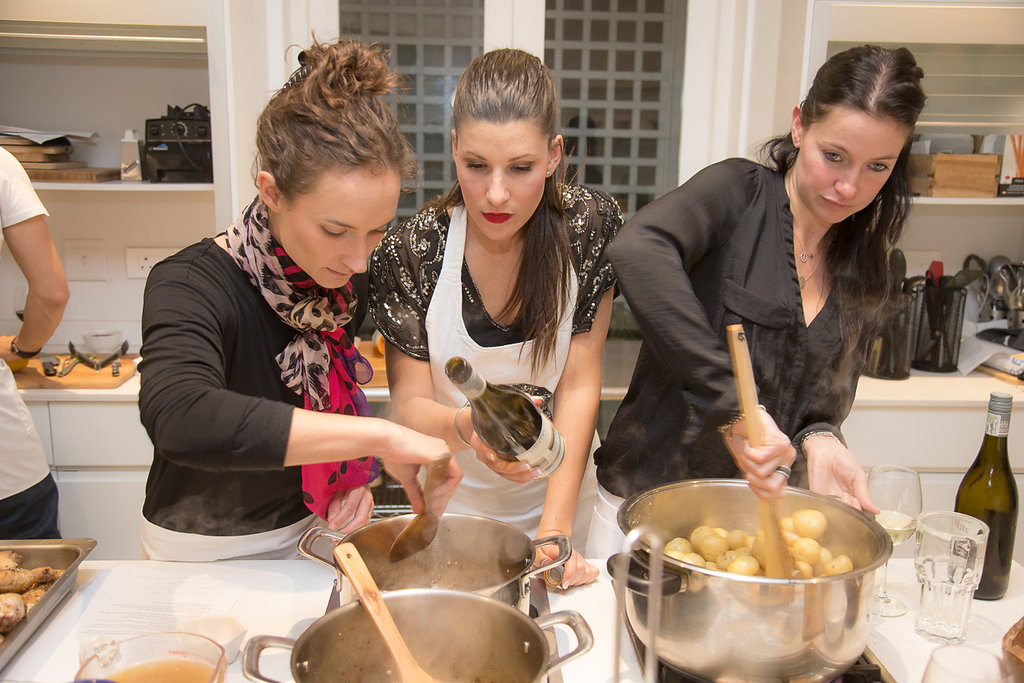 Honey Glazed Baby Carrots
 INGREDIENTS
250g baby carrots
2 tablespoons of butter
2 tablespoons of honey
1 teaspoon lemon juice
Salt and pepper
METHOD
Bring water to boil in a pot, add salt and then carrots and cook until tender, 5 to 6 minutes.
Drain the carrots and add back to pan with butter, honey and lemon juice.
Cook until a glaze coats the carrots, 5 minutes.
Season with salt and pepper
Iceberg wedge salad with a lemony dressing
 INGREDIENTS
Iceberg lettuce (or any lettuce of our choice)
1 cup Olive Oil
1/3 cup freshly squeezed Lemon juice
1 t English Mustard
1 t Honey
Black pepper and salt
1 clove crushed Garlic
METHOD
1. Mix all ingredients well and pour over cut lettuce