Pan-Fried Angel Fish with Herbed Gnocchi, Seafood Bisque, Smoked Avocado Mousse and Dill Oil
The highlight of my career to date must be standing at the Chefs Open Theatre on the Good Food and Wine stage – the very same stage that headline chefs such George Calombaris, Adriano Zumbo, Jenny Morris, J'Something, Sarah Graham and Siba Mtongana appeared. Last year, I paid for my ticket to the show. I walked around like everyone else, and I never even got to go to the main stage and see the headline chefs. A very sad state of affairs.
A year later and there I am on stage at South Africa's premium food show. I even got to help George whip some cream for his dessert.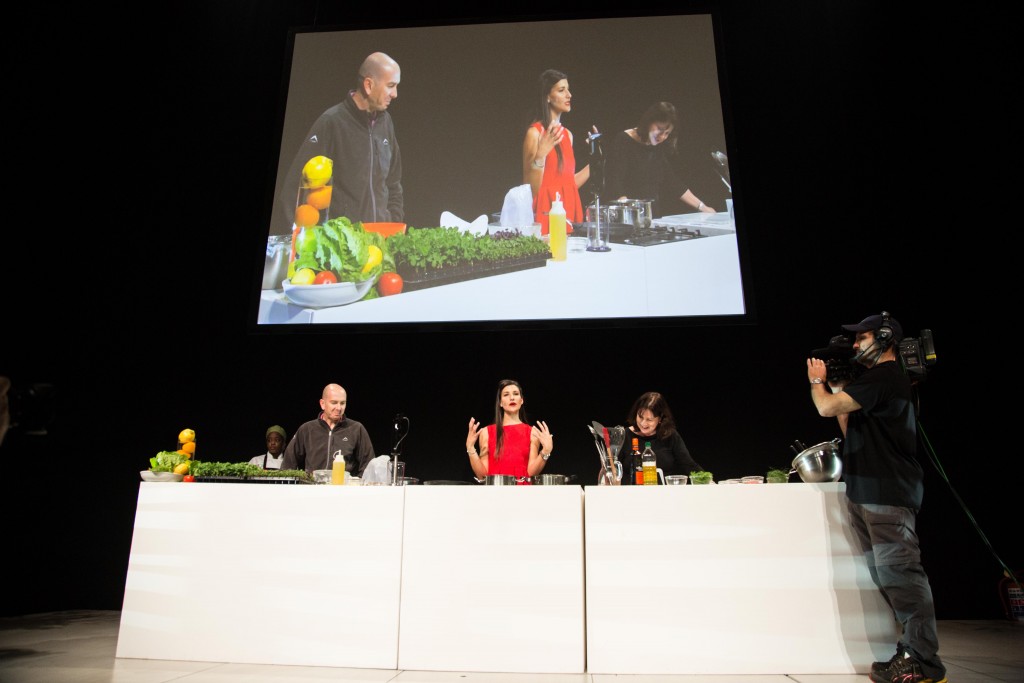 Getting back to my dish, this one is something special…
Inspired by two of my MasterChef SA challenges, I created a dish that would pay homage to my time on the show, but also show the evolution of my skills over the last two years.
Oh yes, it's been two years since the show was filmed… how time flies when you having fun and trying to figure things out!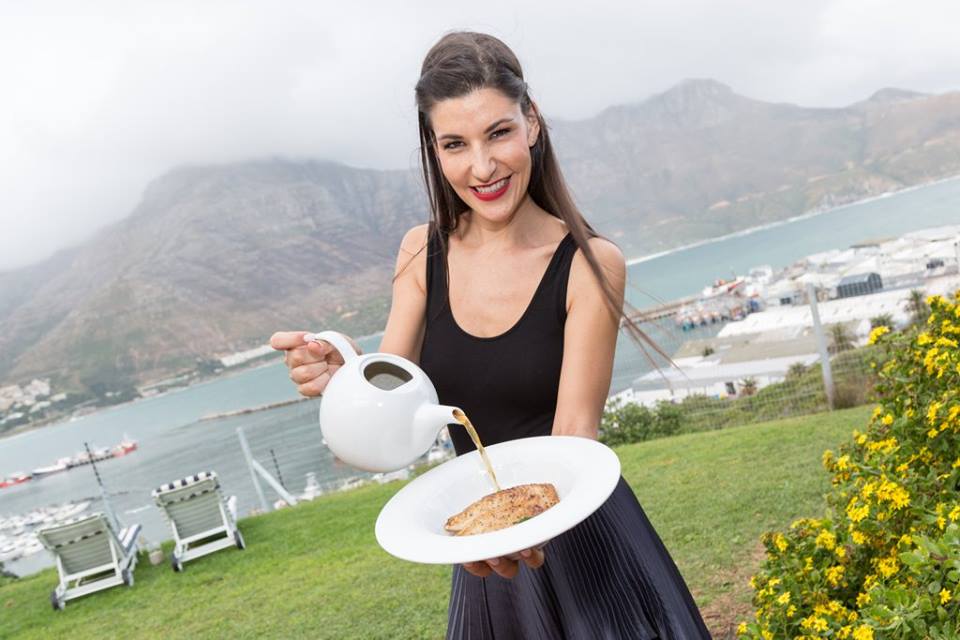 Pan-Friend Angel Fish Recipe
My five element dish – Pan-fried angel fish with herbed gnocchi, seafood bisque, smoked avocado mousse and dill oil – is featured below. And yes, you can all make this at home.
Gnocchi
Ingredients:
400g mashed potato
160g flour (extra for hands)
1 egg
3 T chopped herbs (flat leaf parsley works best)
Oil and butter to fry
Salt and pepper
Corn flour for rolling
Method:
Boil potatoes in their skins until soft.
Cut potatoes in half, place on a baking tray, and bake for two hours.
Scoop out potatoes from skin and mash until smooth.
Add flour, egg, salt and pepper, and then herbs.
Sprinkle surface with corn flour and roll gnocchi into a 2cm sausage, cut into 2cm pieces and then shape into small pillows.
Add to salted boiling water – once floating, remove, drain and allow to cool.
Fish
Buy you seafood from a local fish shop, Sea Harvest on 84a Regent Road , Sea Point are my trusted suppliers. Mike and his team are great, 021 433 0860.
Ingredients:
Angel fish
Salt
Pepper
Butter
Olive oil
Method:
Season you fish and pan fry for 2 min or till you see the edges of the fish turn white. Flip and give it another minute or two .
Make sure your butter and olive oil are hot before cooking your fish and start presentation side first.
Bisque
Ingredients:
3 East Coast crayfish heads
200ml water
2 shallots
1 clove garlic
1 beef tomato
1/2 Jalapeño pepper (with seeds)
2cm piece ginger
3 dill stems, 10cm each
1 sprig  thyme
2 Tsp grapeseed oil
Lemon juice to taste
Fine sea salt
Method:
Peel and coarsely chop the onions. Lightly crush the garlic without peeling it and slice the ginger.
Heat a pan on medium heat and add the oil.
Add the shallots, garlic, ginger and the Jalapeño.
Sweat the veg for a couple of minutes.
Cut the crayfish head and the claws into pieces.
Place them to the pan, and continue sweating for another couple of minutes.
Dice the tomato, and add to the pan.
Continue sautéing until the tomatoes turned into a paste.
Add half the water, the dill stems, and the thyme and bring to a gentle boil.
Let simmer for ten minutes.
Add the remaining water, and reduce again for 10 minutes.
Pass through a fine sieve, forcing through some of the vegetables and Crayfish paste.
The broth should not be clear.
Season with fresh lemon juice and salt if needed.
Smoked Avocado
Ingredients:
3 avocados
Few drops of liquid smoke – only the best thing since hay J
Lemon juice
Salt
Method:
Blend avocado until smooth, then add smoke, lemon juice and seasoning before serving.
Dill Oil
Ingredients:
2.5 tsp dill seeds
200ml grapeseed oil
2.5 tbsp dill Sprigs, finely chopped
Method:
Lightly toast the dill seeds in a small saucepan.
Add the oil, and remove from heat.
Leave to cool down for 10 minutes.
Strain the oil into jug, and add the dill sprigs, a couple of toasted dill seeds.
Blend until smooth and the oil has an intense green color.
Strain, and set aside in another container.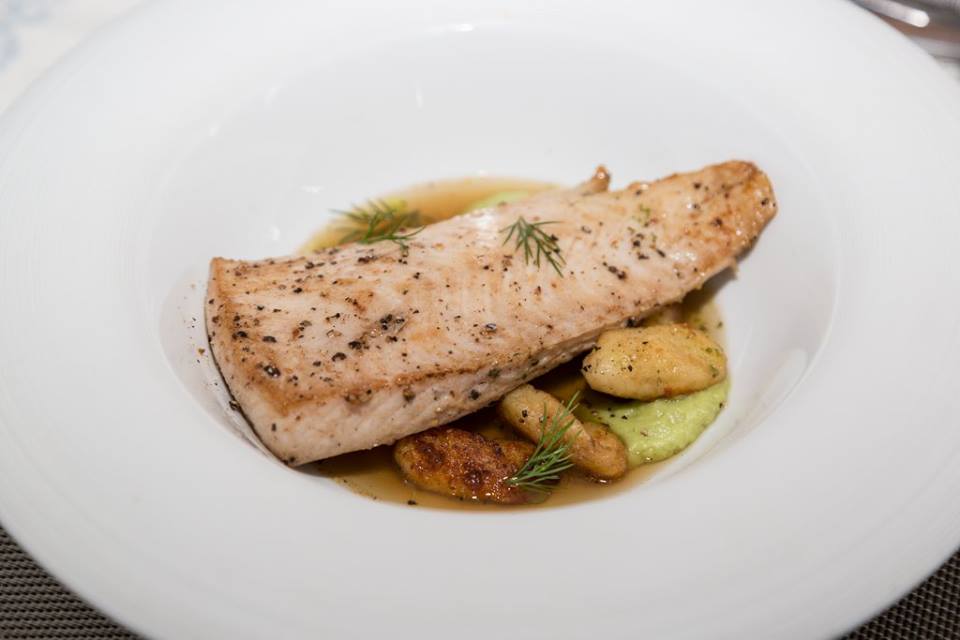 Garnish:
Dill flowers and fresh dill
Plating:
10 pieces of gnocchi
3 piped smoked avocado mousse
Angel fish fillet on top of gnocchi
Dill oil dropped over dish
Garnish with fresh dill, salt and pepper
Bisque served in a jug
This is a light dish with complex flavours that will take you on journey. I was lucky enough to invite 20 foodies to lunch with me a week before the show, where I got to showcase my cooking skills and give them a little education on how important it is to choose your seafood wisely.
Now, I am a proud ambassador for SASSI (South African Sustainable Seafood Initiative) and look forward to sharing their message and helping them make a difference. 312 million kilograms of seafood is consumed in SA. Unfortunately, unsustainable fishing practices have resulted in dangerously depleted fish stocks and an ecosystem that has reached a point that the many marine species face the risk of being fished out of existence.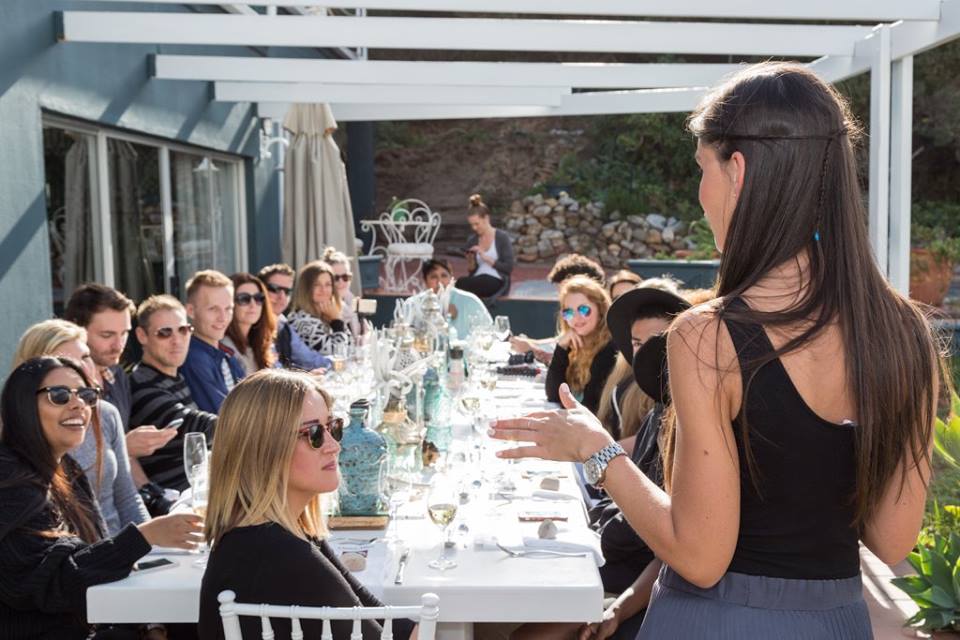 When ordering or buying seafood, always make sure you ask:
What species is this?
How was this caught or farmed?
Where is it from?
If you are unsure, use the FishMS on 079 499 8795 or download the SASSI app for Android, iPhone or BlackBerry.
For all the images from my media lunch and my live demo, go visit my Facebook page.
Looking for to JHb, which is 49 sleeps away!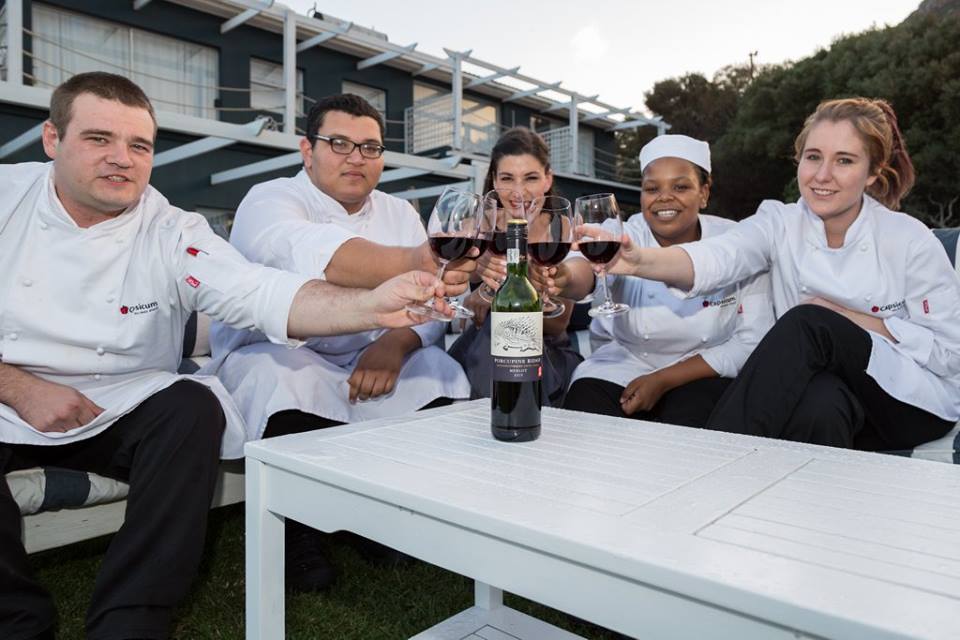 Remember
… Food Is Love …
For more "love-filled" recipes, do not forget to subscribe to my blog.
Follow me on the following Social Media platforms:
Facebook: Claire Allen
Twitter: @claireallen_sa
Instagram: @claireallen_sa