INGREDIENTS
3 kg piece of higher-welfare pork belly
15 g fennel seeds
100 ml olive oil
10 carrots
2 sticks of celery
1 bulb of garlic
6 baby onions cut in half
½ a bunch of fresh thyme
500ml Savanna Cider
200ml Chicken Stock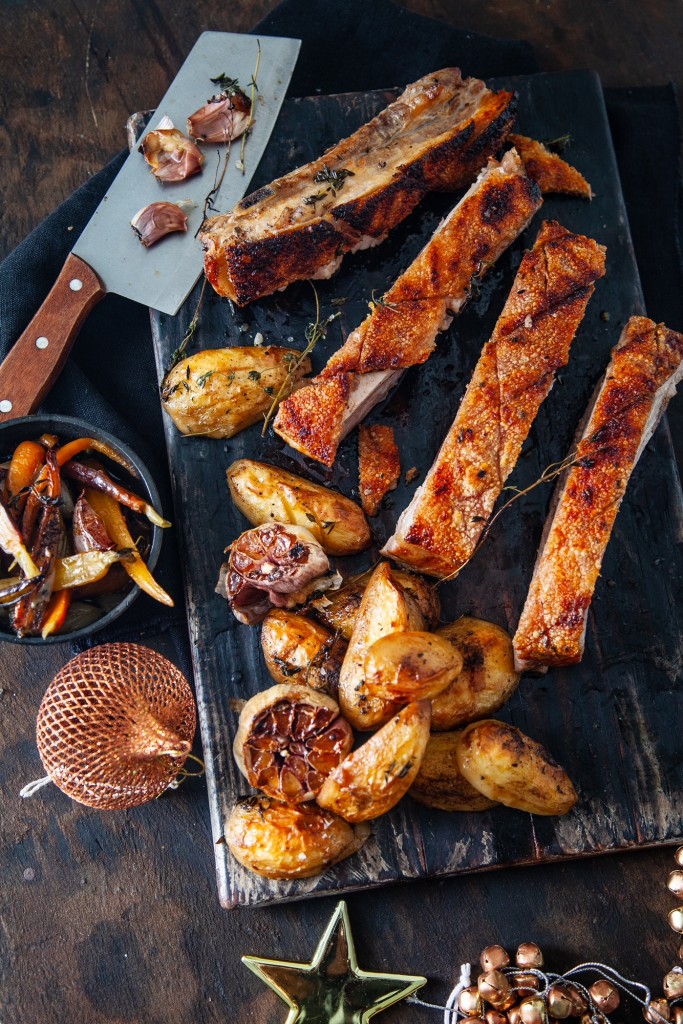 METHOD
Preheat the oven to its highest temperature.
Using a Stanley knife, score the skin down to the meat (try not to cut the meat), making the cuts very close together. You can ask your Butcher to do this for you.
Bash the fennel seeds and a good pinch of sea salt in a pestle and mortar to a powder.
Tip the oil over the top of the scored skin, then sprinkle over the fennel mixture, and rub all over so that everything gets into the scores and down into the meat.
Roughly chop the carrots and celery, then throw these into a roasting tray. Break the garlic bulb up into unpeeled cloves, peel onions and then toss into the tray with the thyme sprigs.
Put the seasoned pork belly on top of the vegetables in the tray, then roast for 10 to 15 minutes, or until the skin starts to bubble and turn golden brown.
Reduce the oven temperature to 170°C and roast for 1 hour 30 minutes. When the time's up, carefully open the oven door and pour in cider and stock. Cook for 1 further hour.
Remove the meat carefully from the oven and test to see if it pulls apart easily. If not, cook for a little longer. Allow the meat to rest before serving.
Chefs Tip
The liquid left in the pan is perfect for a gravy, remove vegetables, bring to the boil and add cornstarch and allow to thicken.
You can also Remove the crackling from the top of the belly and break up into pieces, pull the pork belly apart, and serve with the jug of gravy for a more relaxed meal, it would make the best build your own pulled pork sarmie. Perfect for a lazy Sunday.
Remember
… Food Is Love …
For more "love-filled" recipes, do not forget to subscribe to my blog.
Follow me on the following Social Media platforms:
Facebook: ClaireAllenSa
Twitter: @claireallen_sa
Instagram: @claireallen_sa