Stew, ragout, casserole…
All these cooking terms mean the same thing… slow cooked on a low heat with liquid. So why does the French word sound so much more complicated?
Essentially, the recipe below is a red wine stew that I've spiced it up with dumplings. These nuggets are rather dense and almost taste like stuffing. Yummy.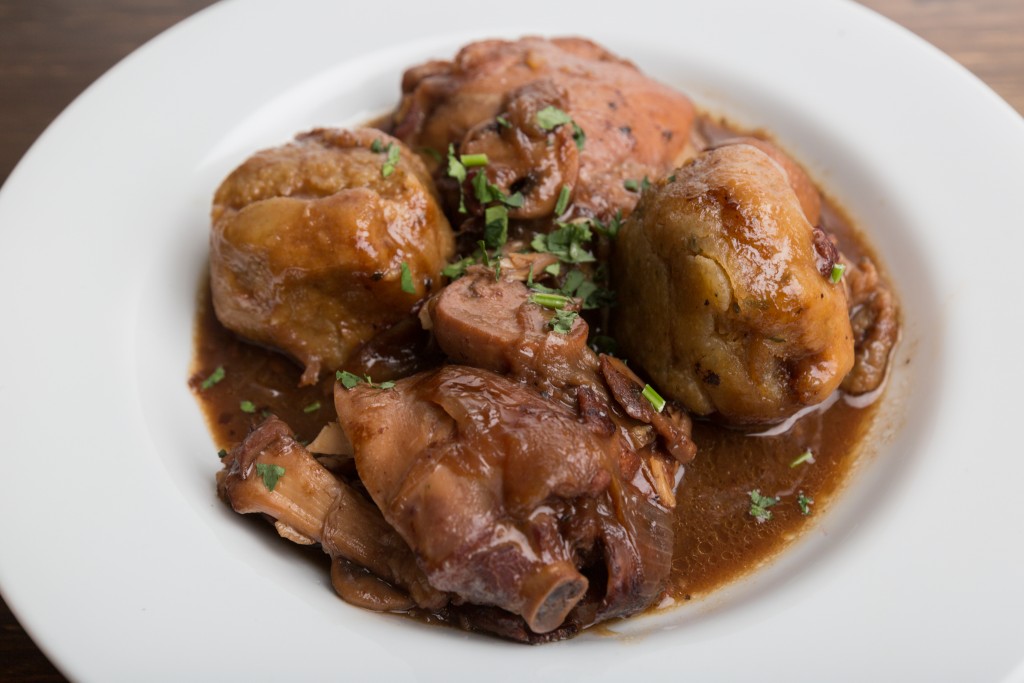 Ingredients
6 piece chicken
3 tbsp plain flour
3 tbsp olive oil
3 onion
200g smoked bacon diced
3 garlic clove, peeled and don't slice ill do that on stage
300g sliced mushroom
2 bay leaf
2 tbsp redcurrant sauce
3 strips of peeled orange zest
600ml red wine
600ml chicken stock
For the dumplings
150g self-raising flour
1 tbsp wholegrain mustard
140g butter
2 tsp fresh thyme
2 tbsp fresh parsley chopped
2 medium egg
Method
Preheat the oven to fan 180C
Season the chicken with salt and freshly ground black pepper, then coat lightly in a little of the flour. Heat the oil in a large ovenproof pot and, in batches, brown the chicken on both sides over a high heat. Remove the chicken and set aside.
Reduce the heat, add the onions and bacon and cook for about 5-8 minutes so they are golden tinged. Add the garlic, then sprinkle in the plain flour and cook for 1 minute, stirring to prevent sticking.
Add the mushrooms, bay leaves, redcurrant sauce and orange zest and some orange juice, then pour in the red wine and stock and season with salt and pepper. Bring to the boil, then return the chicken to the casserole dish, making sure it is well covered with the liquid. Put on the lid and cook in the oven for 60-75 minutes.
While the casserole is cooking, prepare the dumplings. Put the self-raising flour, mustard, and butter in a food processor and blitz to a crumb consistency. Add the thyme, parsley, eggs and salt and pepper.
Remove the casserole from the oven and pop in your dumplings on top. Place the lid back on and return to the oven for a further 20 minutes, until the dumplings have puffed up. Spoon the chicken and sauce onto six plates and top each with a dumpling.
I cooked this for dinner after my mother instructed me she was having people over, and they expected an incredible meal from a MasterChef contestant, no pressure mom.
So I used lots of French terms to make it sound like I'd worked hard, but actually, I watched TV with my sister while this slowly simmered away in the oven.
The complex flavours in this dish make for a world class dinner – approved by my mom and her guests.
Remember
… Food Is Love …
For more "love-filled" recipes, do not forget to subscribe to my blog.
Follow me on the following Social Media platforms:
Facebook: Claire Allen
Twitter: @claireallen_sa