Entering MasterChef was a natural progression for me. I wanted to enter two years ago, but got caught up at an event my company Signature Productions had organised the night before and never got the chance to prepare.
At the end of 2012 and beginning of 2013, I started re-evaluating my life, and realised that I wanted more to life than just work, work, work. I wanted hobbies and I wanted interests. A very good friend of mine, Vanessa Holliday, who is a bombshell blonde, DJ and business owner, was so passionate about music that her devotion inspired me. She started taking time off work to learn new things like how to play the piano or how to sing. I was so proud of her for being so brave for taking the time and money to invest in herself. This made me realise that I needed to start doing the same. I needed to stop buying high heels and dresses, and start putting money toward the things that I love, the things that I enjoy and the experiences I wanted to have.
I decided to do a cooking course, because whenever anyone ever asked me in person or in any form I ever had to fill in, the answer to "what's your hobby" was always cooking. I used to think this was quite bizarre and lame, because surely something that was so ingrained in who I am can't really be a hobby.
That when I realised that cooking is my passion that I wanted to devote my time to working on it , and I really believe that…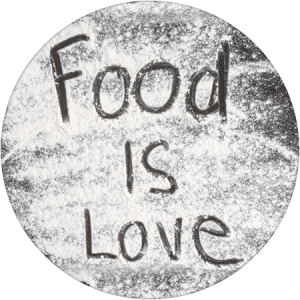 I think it was in January 2014 that I was reviewing my New Year's Resolutions. Number 1: Find a cooking course. I was sitting on my couch, googling different cooking courses and the TV was playing in the background when the MasterChef call for entries screened. It was one of those light bulb moments!
And that is where it all began… I got started living my passion, and I'm so humbled, grateful and proud to have taken that first step.
Thank you for taking the time to read this, and remember…
…FOOD IS LOVE…