I am fortunate to travel for work, and as a result, I get to be in JHB every few weeks. This weekend, I got to be a 'foodie tourist' when my friend Greg took me to the Neighbour Goods Market for an early site-seeing trip.
It started with him waking me up at 08h00, which is not early but I only got to bed at 02h00 after a great dance-off with Abigail the night before. So, my adventure began with a drive around Bramfontein, which is such a great vibey area, with a rad Puma concept store… they serve beer and have a DJ playing in the road. Hello JHB, too cool for school… I'm so feeling your vibe and I love it! Next was a coffee run for Greg, and then we were off.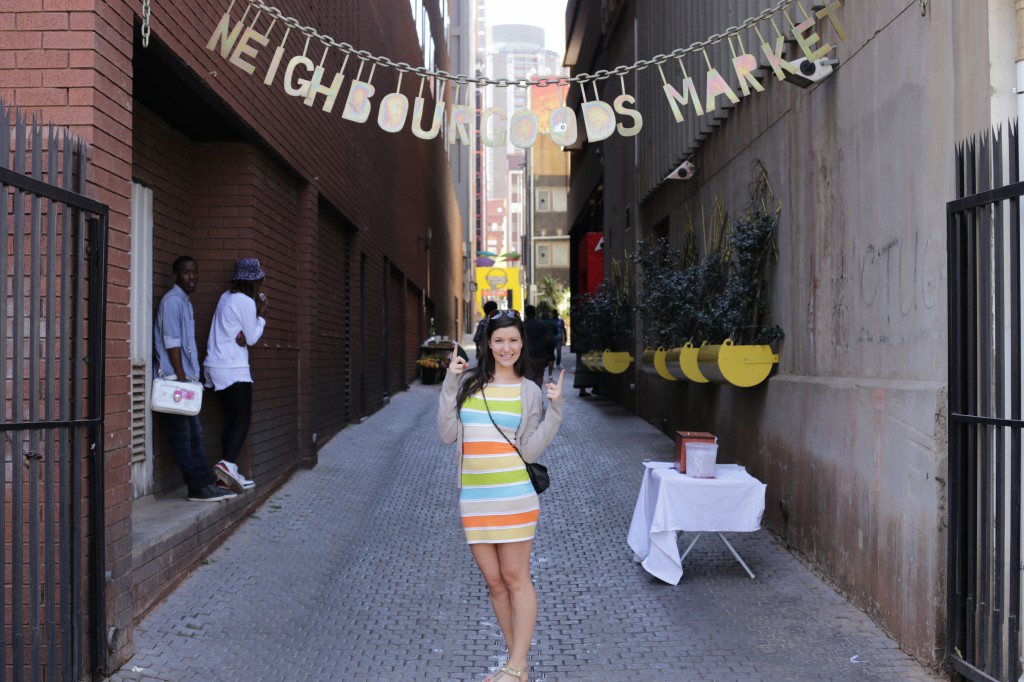 First things first – I needed pancakes and juice… yummy DARE juice.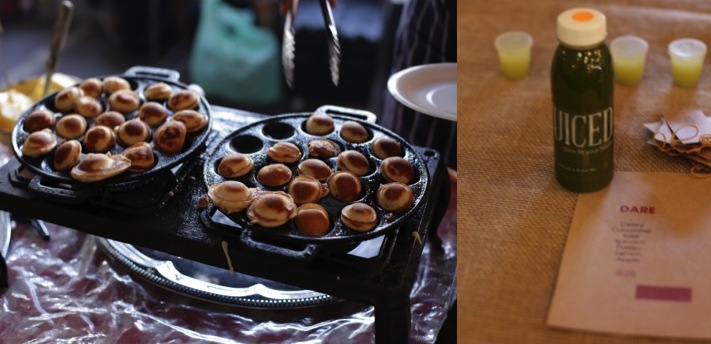 It was a great morning to visit. The market was filling up, but there were no queues yet, and we had room to walk around. And the food looked amazing!!!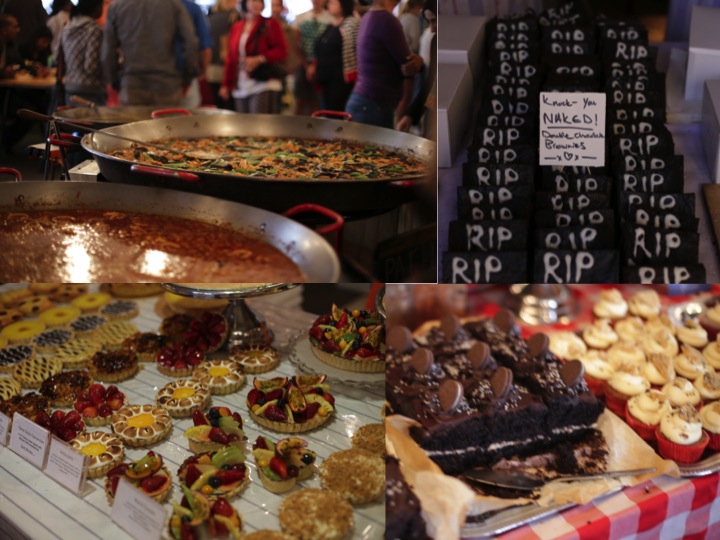 It was hard to choose what to have!!! Greg and I eventually decided that American style chicken won HANDS DOWN, and it was a great choice. Not only do you get crispy, spicy, tender chicken strips; it's got this sweet and tangy syryp, light mayo style dressing and parmesan cheese!!! They even give you a portion of fries, slaw and sliced watermelon… you see it's not all bad… you get some fruit too. LOL.I never got the stall manager's name, but he posed for a picture and told me that because I was a lady, I should get a purple flower. All a girl needs is a flower to make her feel special… and crispy chicken and parmesan too.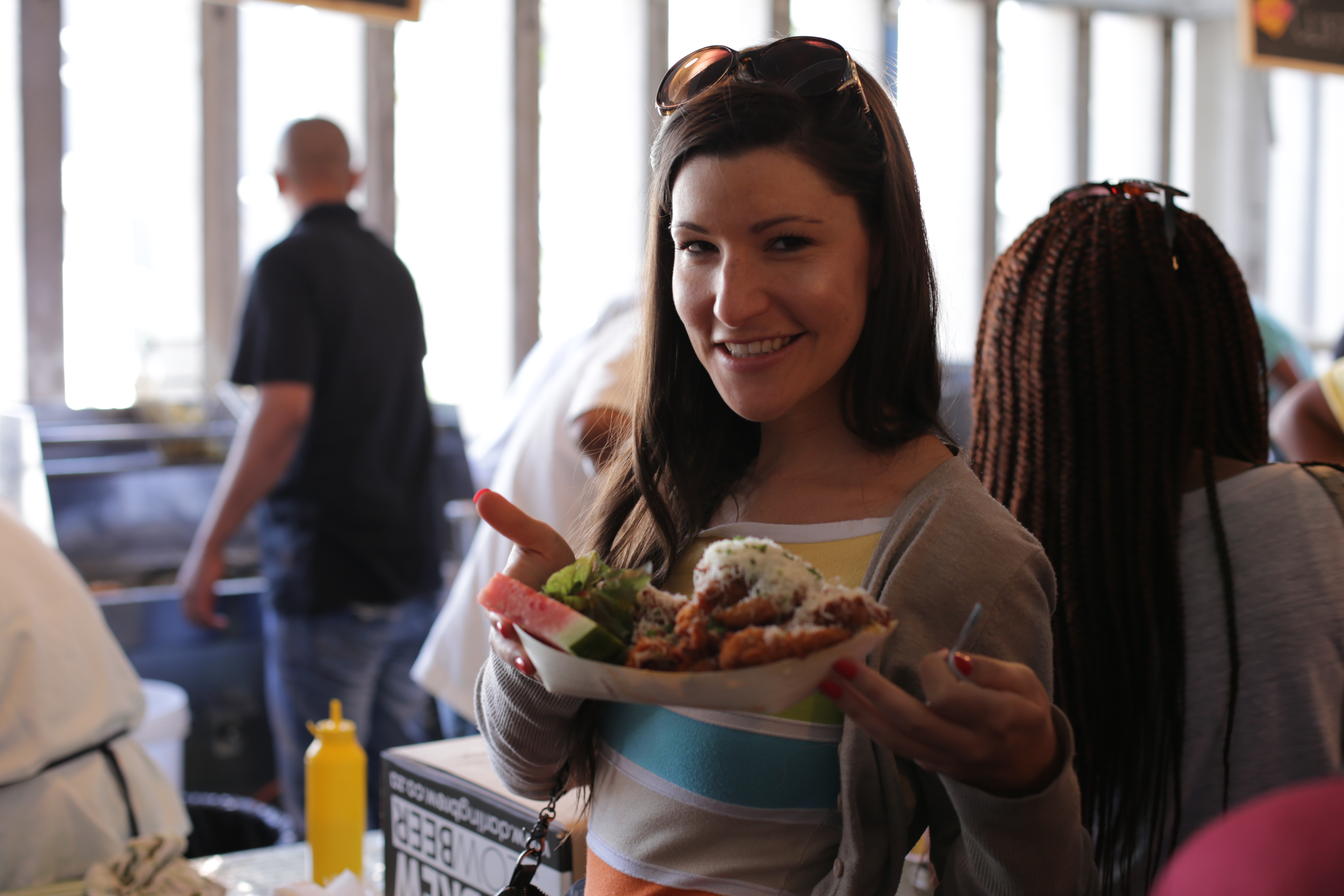 I got offered tequila shortly after that, but politely declined as it was only 10h30 and I thought it best to rather wait till last least after 12h00 (wink). The market started filling up, and we wandered upstairs and saw some great stores.
While we were walking about, these two recognised me: Adam and Devon!!! It was such an amazing feeling to be recognised by these two champs! We stopped for a bit to chat, and then we posed for a picture. They made MY day.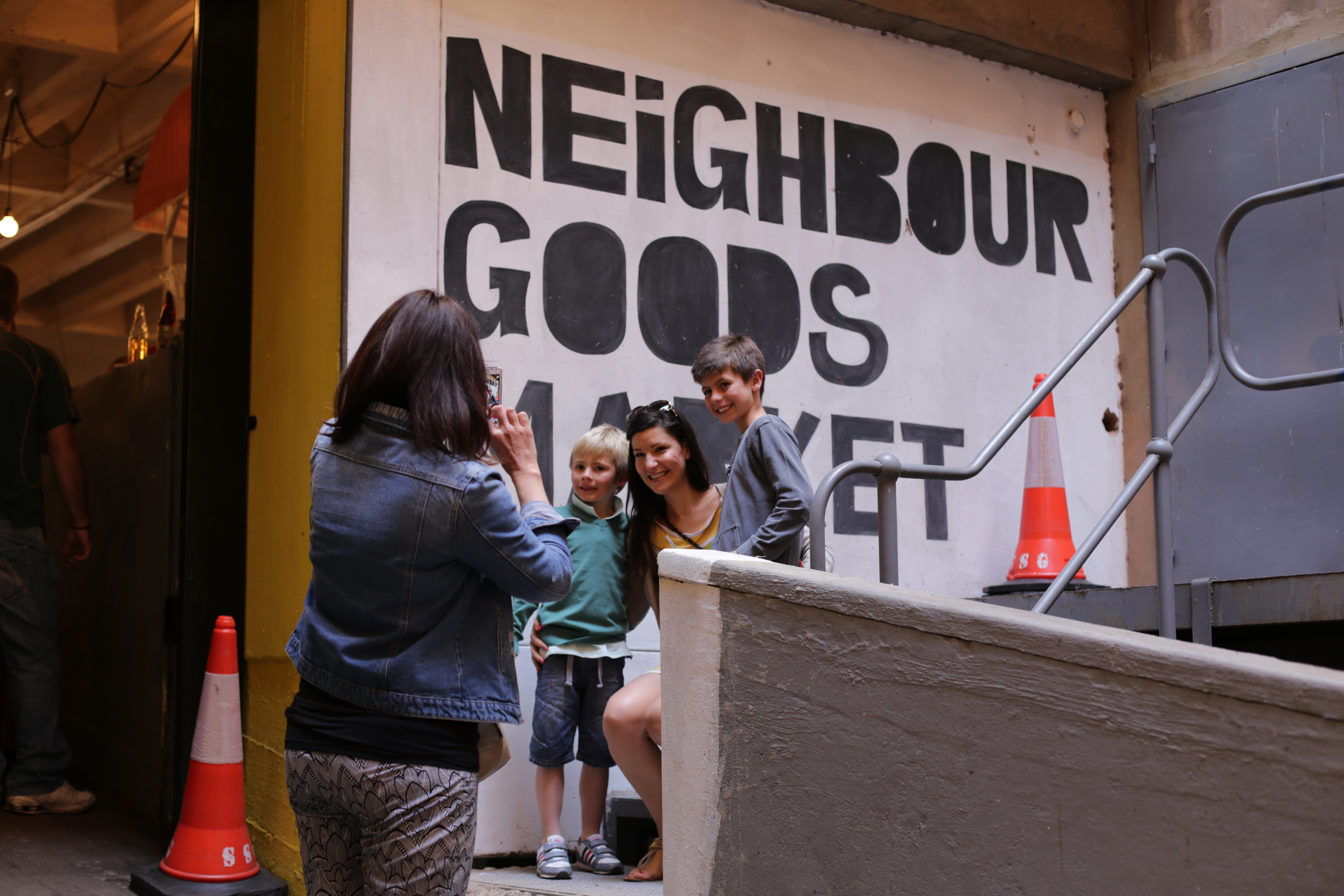 My JHB food journey didn't end there either. Soon, I was off to a lunch with an amazing group of friends: Greg my tour guide, Mark, another Greg, Lizzy, Romy and Thulane.  What a fab lunch it was, too. My wine choice was wooded Chardonnay obviously. I was a bit of a brat and really wanted some yummy Mulderbosch wine, so was lucky to have the best waiter at Bellinis, who got us a few bottles from next door. He even made me something special for lunch – fillet cubes with peri peri sauce, avo and parmesan… delish! I do believe it should be on the menu. I basically ordered fillet Suzette with the peri peri livers sauce! It's a winner… try it.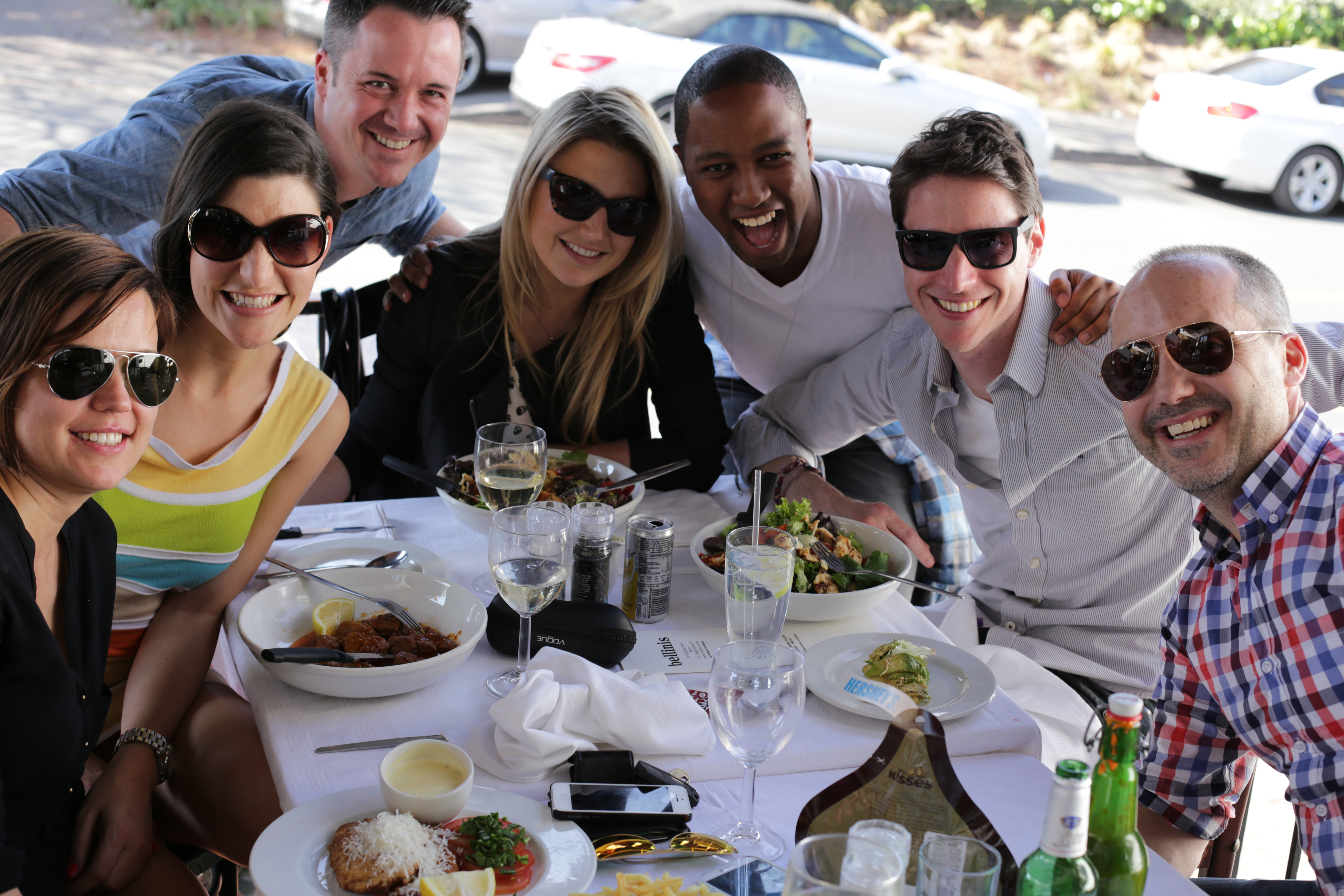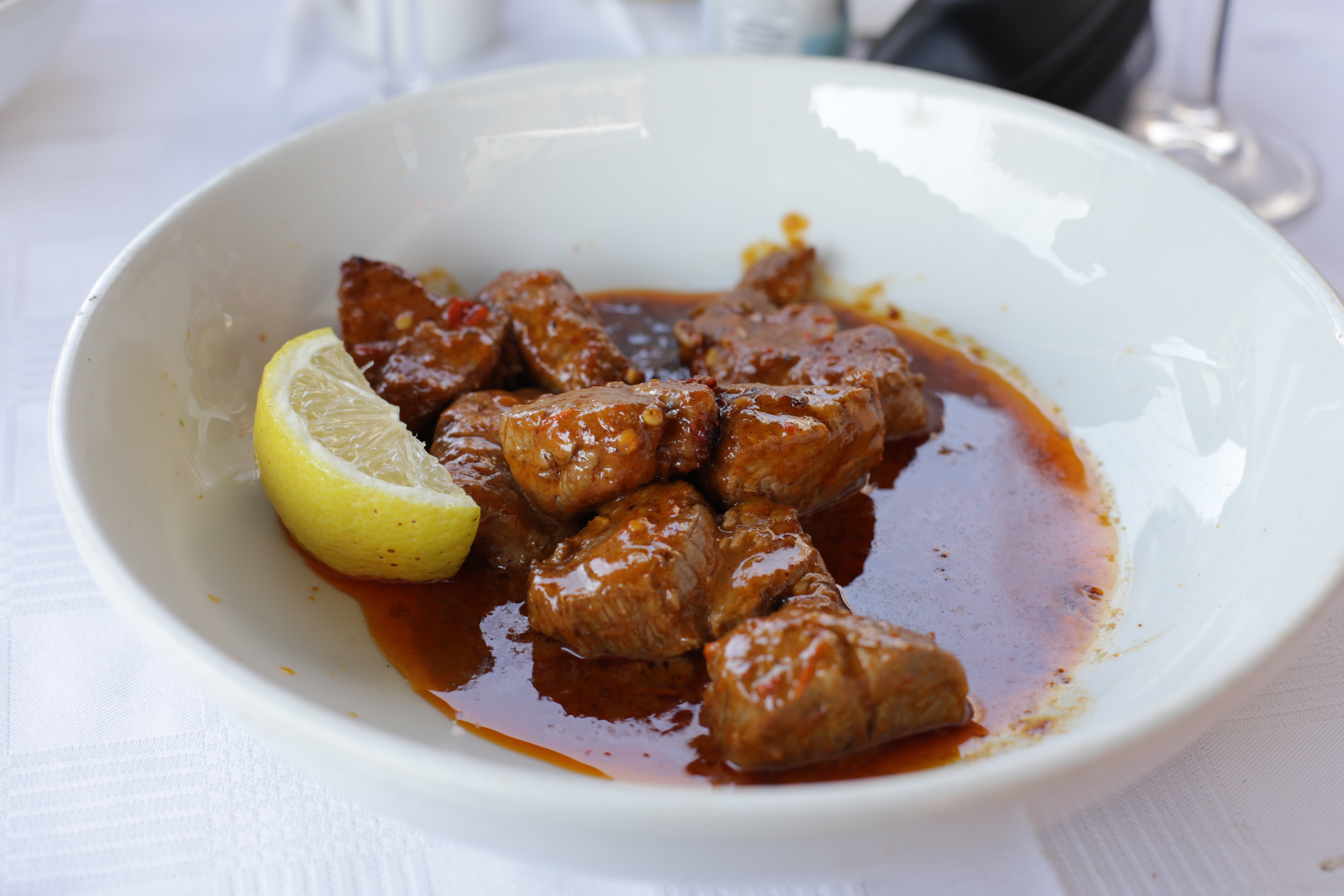 All in all, it was great Saturday, and it ended with a perfect bubble bath. On Sunday, the MasterChef Top 12 headed to  SA Idols!! I already have a few favourites.
Remember
…FOOD IS LOVE…