When asked what my favourite style of cooking is I always answer SLOW….low and slow is the best way to create a delicious meal. As part of my partnership with Lourensford, I created this beauty using their Merlot.
"TASTING NOTE
"The wine has a brilliant colour – deep, dark, intense and bright. Aromas of concentrated, ripe black cherry, as well as mulberry fruit flavours and prunes, greet you on the nose along with subtle hints of cigar box. The palate is dense, structured and powerful.  Firm fruit tannins are beautifully balanced by well-integrated soft oak flavours which promise age-ability and gives structure and length. Very well rounded and supported with a smooth, silky elegance and upfront flavours of juicy black cherry and mulberry with hints of dark chocolate. The complex palate will awaken your taste buds and undertones of leather and wild berry with a velvety texture will linger for a while and leave you wanting more of this big, bold wine. "
INGREDIENTS
 RUB
2 tbsp coriander seeds
2 tbsp cumin seeds
1½ tbsp yellow mustard seeds
1 tbsp black peppercorns
1 tbsp brown sugar
1 tbsp smoked paprika
1 tsp cayenne pepper
2kg whole piece of beef brisket (I had to request the butcher to prepare this especially for me so I'd suggest arranging this beforehand, trust me, it is worth it)
METHOD
For the rub, put the coriander seeds, cumin seeds, mustard seeds and peppercorns in a frying pan and toast over a medium heat for a few minutes, take care not to burn them. Allow to cool.
Once cooled, add the spices to a pestle and mortar and crush to a powder. Add the sugar, smoked paprika and cayenne pepper and mix together.
Score the inside of the beef with a sharp knife and rub the spice mix all over the joint, inside and out. Roll the joint up and tie securely in several places using kitchen string. Cover with cling film and place in the fridge overnight.
BRISKET
1 onion
3 gloves of garlic
Olive oil
1.5 litre beef stock
250ml Lourensford Merlot
1 cup of baby carrots
METHOD
Set oven to 160 degrees
Sear the meat in a heavy-based pot and place to one side
Add the onion and garlic and soften
Add your wine and stock and return the meat to the pot, make sure you have about 1cm of the meat above the liquid.
Place the lid on and go watch a movie, you have 5 hours till dinner is ready.
Check your meat every 2 hours to make sure temperature is not too hot and liquid has not evaporated.
30 min before serving place your baby carrots in the pot and allow to cook till soft.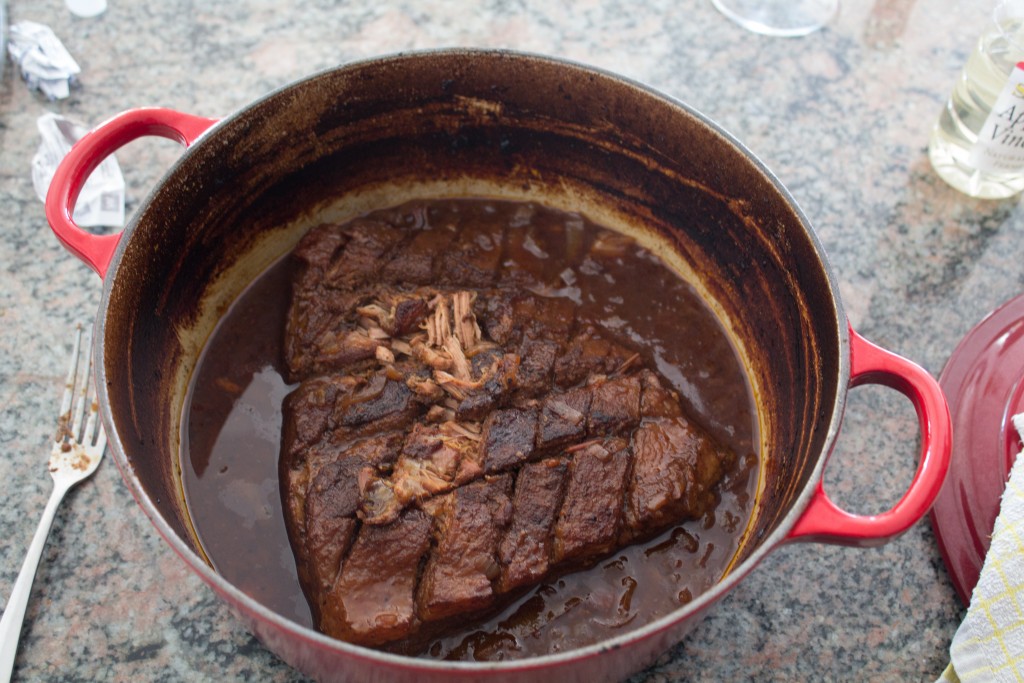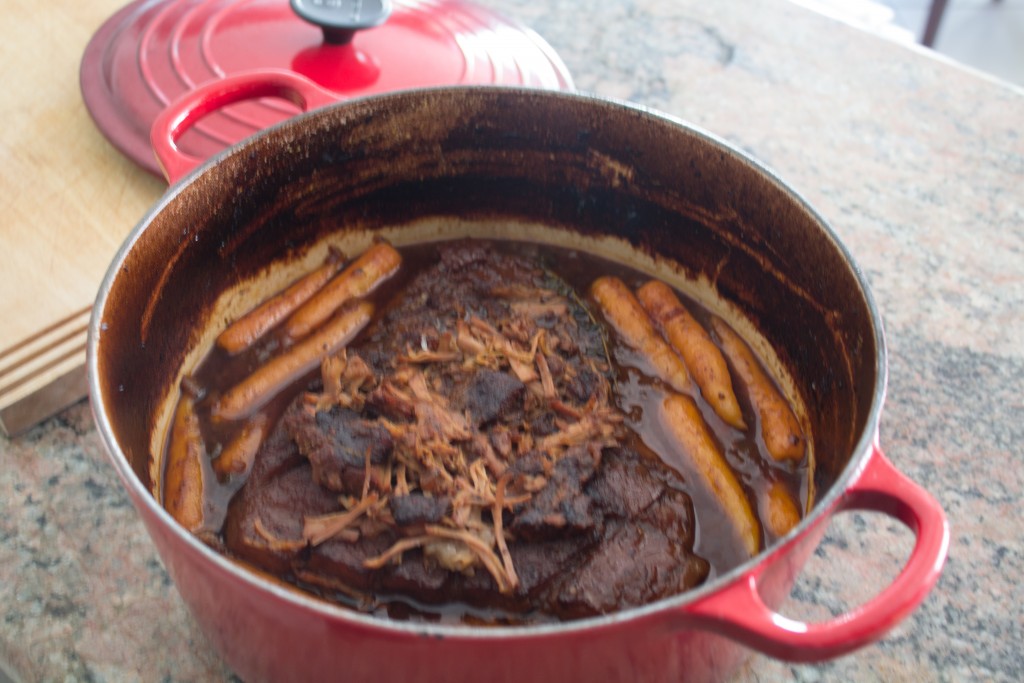 TO SERVE
I really enjoyed this dish with Parmesan polenta, quick to make and gluten free. This is a yummy cheese starch perfectly served with the brisket.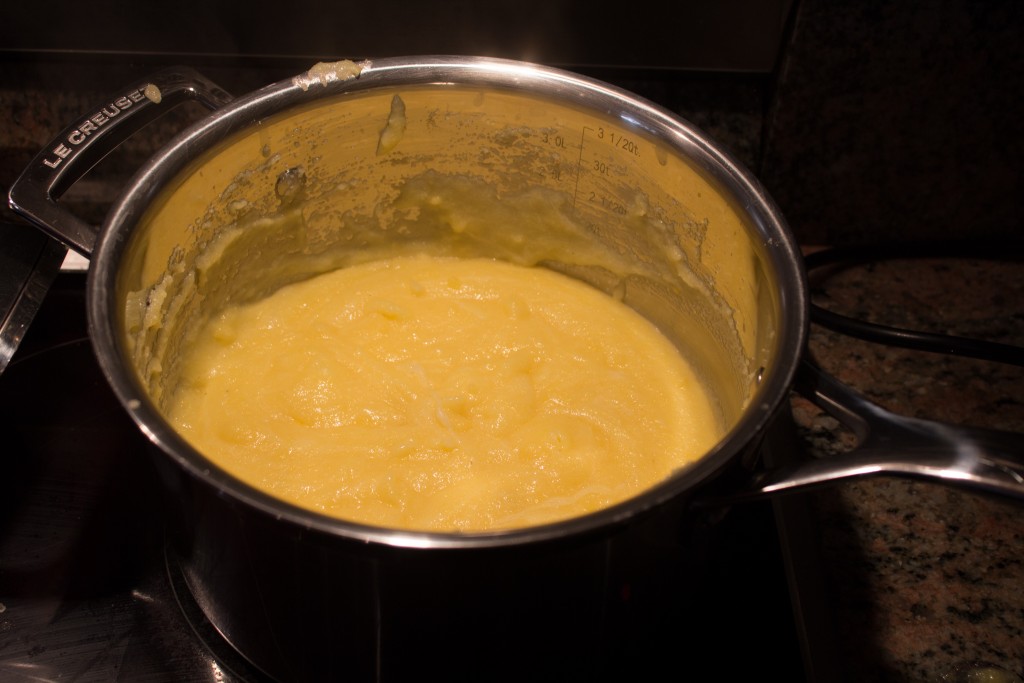 If you were to make this and had any vegetarians joining for dinner; onions, garlic and mushrooms with brandy instead of white wine will make a perfect substitute and can be served with the polenta as well.
For more pairing ideas:
"FOOD PAIRING
Versatile when it comes to food pairing options but undoubtedly a big wine which will pair well with big foods. Steak, kudu, ostrich, roasted springbuck, venison pie – this wine can handle them all very well. It will always go well with grilled or barbequed foods as the intense flavours of the wine latch on to the pronounced 'browning' flavours which develop with these cooking methods. tends to not go well with strong and blue-veined cheeses that can overwhelm the fruit flavours of the wine."
Always Remember
…Food is Love…
For more "love-filled" recipes, do not forget to subscribe to my blog.
Follow me on the following Social Media platforms:
Facebook: ClaireAllenSa
Twitter: @claireallen_sa
Instagram: @claireallen_sa