A Very Merry Xmas
2015 ended on a very high note when I was able to tick off a VERY important goal I had set for myself at the start of foodie journey.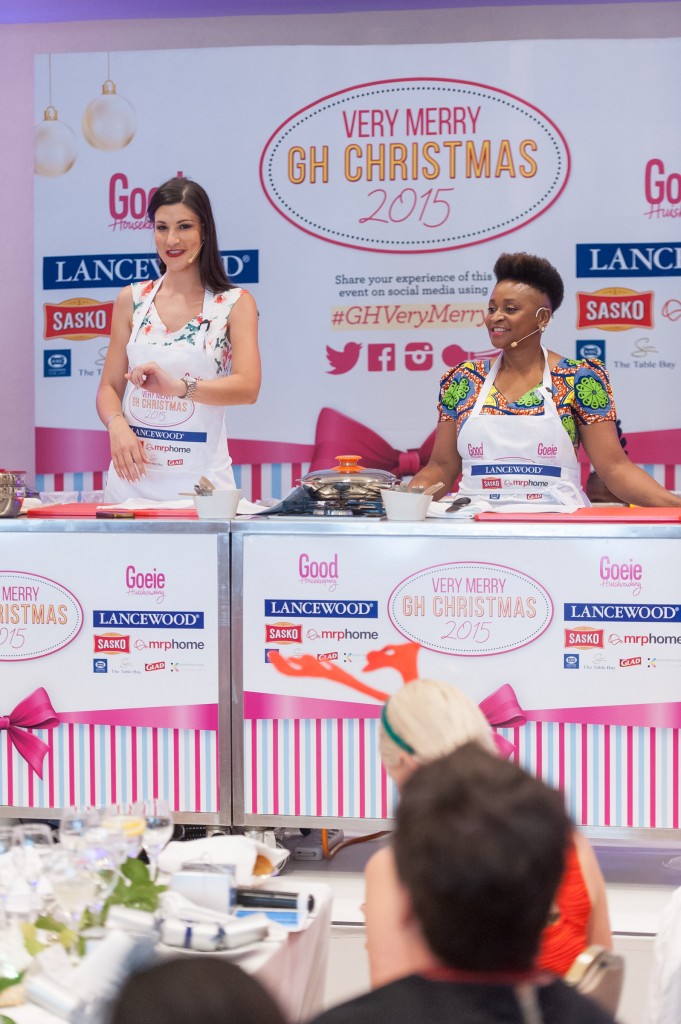 I was very fortunate to be invited by Good Housekeeping Magazine as one of their Celebrity Chef's for their famous annual event.
The event was hosted at the Table Bay hotel with décor by Mr Price Home, with over 250 guests the whole experience was a MASSIVE treat. I got to share the stage with an incredible Chef, Mokadi Itsweng, from Lotsha Kitchen and Cocktails. She has an incredible presence, totally humble , kind and with a culinary story to make you sit up and listen.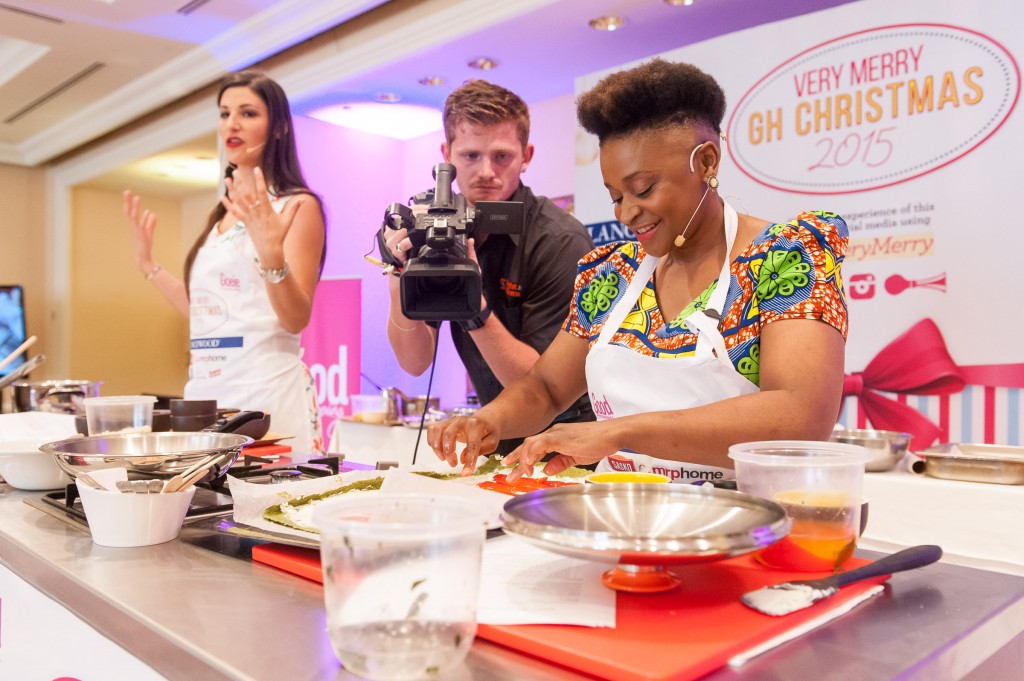 The special guest of the day was the infamous Suzelle DIY, who made everyone laugh and had some pretty nifty kitchen tricks for the audience. We both made Lancewood cheese cake, hers was a great cheats version while mine was a more decadent recipe

Guests got to enjoy our cooking and décor demonstrations, a delicious sit-down lunch designed by myself and Mokado as well fabulous activations by the sponsors including  Lancewood Cheese, SASKO, MRP Home / Mr Price Home,GLAD SOUTH AFRICA, AMC Cookware .
Last but not least we also got to sip on KWV Wines for the entire day which I enjoyed obviously with one of my favourite South African personalities, Liezel Van der Westhuizen who was MC at the event.
The event is a great day for Good House Keeping readers to meet the team , learn from the live entertainment, be pampered and fed but most importantly  its an opportunity to give back , all of you who attended helped raise a massive R19,130 from raffle ticket sales for Kaleidoscope (previously the Institute for the Blind ) which is an incredible achievement. I feel really proud to have been part the event.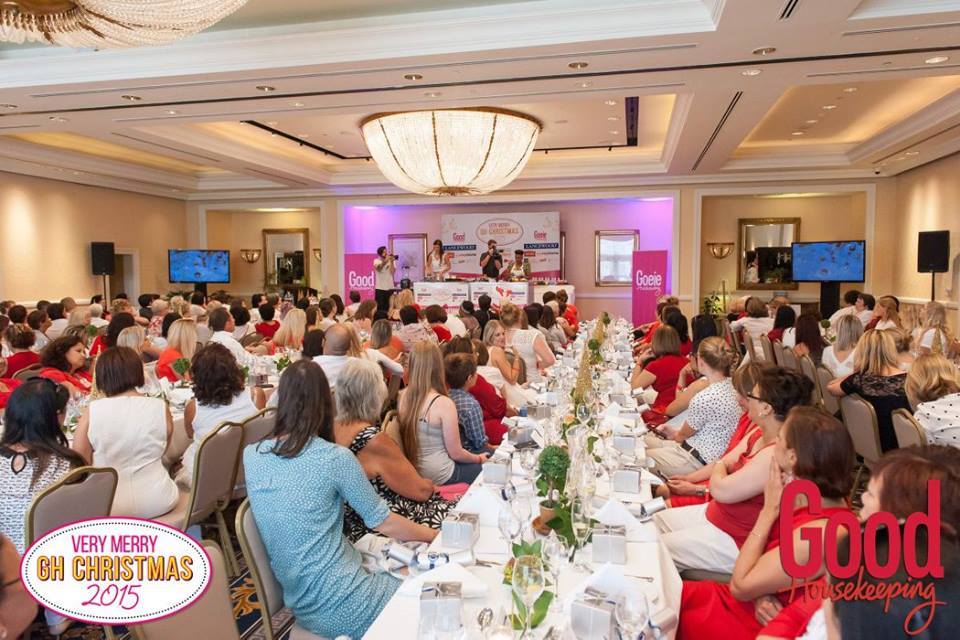 As always we left with great goodie bags, full tummies and happy hearts. It was one for the nector list and something I cant wait to do again.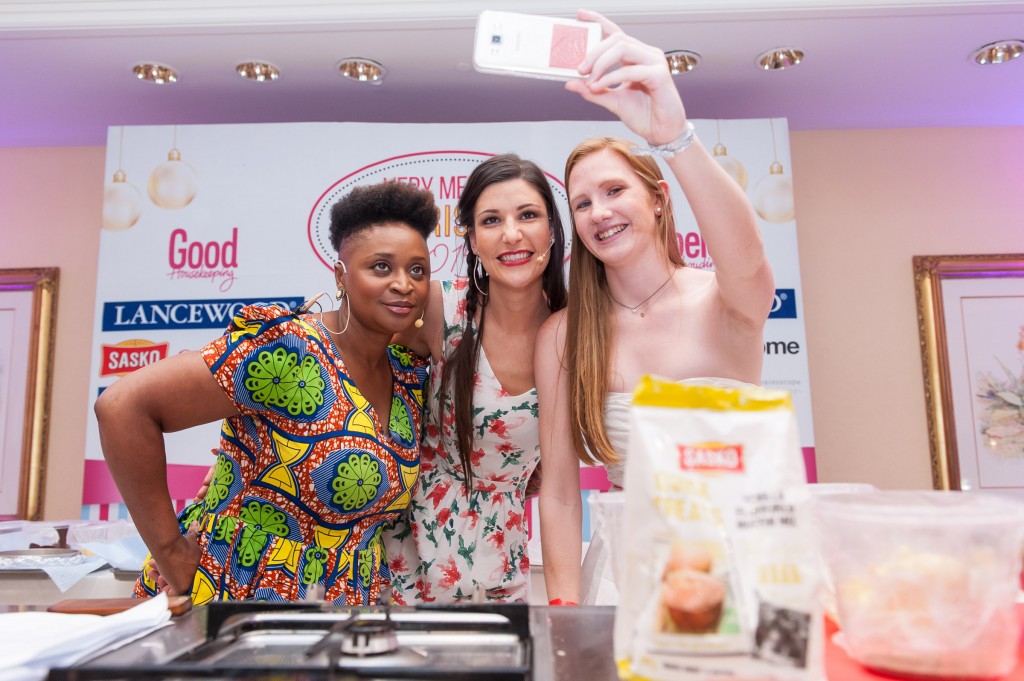 See below for all my recipes from the event .
Baby Chicken
Preparation Time: 15 minutes
Cooking Time: 30 minutes
Makes: 1 baby chicken per person
INGREDIENTS:
1 to 2 sage leaves, finely chopped
1 lemon
2 tbsp Lancewood Plain Creamed Smooth Cottage Cheese
olive oil
salt and pepper
1 baby chicken
METHOD:
Mix all the ingredients except the baby chicken in a small bowl and season to taste.
2. Place your baby chicken on a chopping board and carefully pull the chicken skin away from the breast meat. Do this gently – you don't want to tear the skin, as this is going to keep your amazing Lancewood cottage-cheese mixture and the delicious flavours locked in.
3. Spoon the mixture between the chicken meat and skin, and massage into your meat. Pull skin closed and season.
4. Roast for 30 minutes at 180°C.
Cranberry Stuffing
Preparation Time: 20 minutes
Makes: 12 to 15 servings
INGREDIENTS:
1 loaf Sasko Low GI Whole Wheat Brown Bread, cut into cubes
250ml chicken stock
2 cups hot water
¼ cup apple juice
8 tbsp unsalted butter
1 medium onion, minced
2 garlic cloves, minced
2 tbsp fresh parsley, minced
1 tsp dried sage
1 tsp dried thyme leaves
½ tsp marjoram
⅓ cup toasted almond slivers
⅓ cup cranberries
½ tub Lancewood Plain Creamed Smooth Cottage Cheese
1 large egg, beaten lightly
1 tsp kosher salt
½ tsp pepper
METHOD:
Place your bread cubes on a baking tray lined with Glad Bake & Cooking Paper and bake in the oven at 190°C for five minutes, then remove from the oven, toss and bake for a further five minutes. Depending on how brown you like your croutons, you may need to bake them for another five minutes or so.
2. Mix the stock into the water and juice, and set aside to cool.
3. Heat butter in a frying pan over a medium-high heat; add the onion and sauté until softened (about 10 minutes).
4. Stir in garlic and then the parsley, sage, thyme and marjoram, and cook until fragrant (about 1 minute).
5. Add the almonds and cranberries and stir for 3 to 5 minutes.
6. Transfer into a very large mixing bowl and add the dried, cooled bread, stock, cottage cheese, beaten egg and salt and pepper, and toss gently to distribute dry and wet ingredients evenly.
7. You can now stuff your chicken and cook it or, if you would like to serve the stuffing as a side, turn mixture into a buttered 22cm x 33cm baking dish.
8. Cover with foil and bake for 25 minutes for 180°C, then remove the foil and continue to bake until golden (about 30 minutes longer).
9. Cool for 10 minutes before serving.
Bread Sauce
Preparation Time: 10 minutes
Cooking Time: 25 minutes
Serves: 18
INGREDIENTS:
1 onion, chopped
50g butter
600ml milk
6 cloves
6 peppercorns
2 garlic cloves
1 bay leaf
3 thyme sprigs
100g white breadcrumbs from Sasko Low GI All-in-One White Bread
4 tsp Lancewood Mascarpone
pinch of nutmeg, freshly grated
salt and freshly ground black pepper
METHOD:
Fry the onion in the butter in a frying pan until soft. Don't allow it to brown.
2. Add the milk, cloves, peppercorns, garlic and herbs, and simmer for 20 minutes.
3. Strain the cloves and peppercorns, and return the liquid to the pan.
4. Add the breadcrumbs and simmer for 3 to 4 minutes.
5. Stir in the mascarpone.
6. Add the nutmeg, salt and pepper, and serve.
TIP: This can be made up to 3 days in advance and heated up when needed.
Gravy
Version 1: Traditional Gravy
Preparation Time: 5 minutes
Cooking Time: 10 to 15 minutes
Serves: 4 to 6
INGREDIENTS:
500ml chicken stock
1 tbsp pre- made roux
boiling water, as required
salt and pepper, to taste
METHOD:
Place your baking tray on your stovetop and turn the heat to medium.
2. Add the stock and, with a metal whisk, scratch all the roast bits off the baking tray and bring it to a simmer.
3. Add half your roux and whisk, ensuring there are no lumps.
4. Allow gravy to start to boil – it will start to thicken in a few minutes.
5. You may add more of the roux if you want a thicker gravy or boiling water if it becomes too thick – create the consistency you desire.
6. Taste and add seasoning if needed, but you should have enough seasoning from your baking-tray juices and stock.
7. Strain and serve.
Version 2: Crème-fraîche Gravy
Preparation Time: 5 minutes
Cooking time: 10 to 15 minutes
Serves: 4 to 6
INGREDIENTS:
2 tbsp butter
¾ cup onion, chopped
2 tbsp garlic, minced
1 cup chicken stock
1 cup crème fraîche
2 tbsp Dijon mustard
2 tbsp fresh Italian parsley leaves, chopped
salt and pepper, to taste
METHOD:
Place a baking tray on your stovetop, add butter and onion, sauté until tender, then add garlic.
2. Add the stock and simmer until it is reduced by half (about 4 minutes).
3. Stir in the crème fraîche and mustard.
4. Simmer, uncovered, over a medium-low heat until sauce thickens slightly (about 2 minutes).
5. Stir in the chopped parsley.
6. Season the gravy to taste.
Chocolate Cheesecake
INGREDIENTS:
For the Cheesecake:
250g Sasko Quick Treats Cookie Mix, made as per instructions on the packet
65g butter, melted
100g good-quality dark chocolate (minimum 70% cocoa solids)
200g Lancewood Plain Full Fat Cream Cheese
400g ricotta
75g golden caster sugar
3 eggs
40g cocoa powder
For the Sauce:
125g good-quality dark chocolate (minimum 70% cocoa solids)
125ml double cream
15g butter
To Serve:
chopped or grated chocolate
cocoa powder, for dusting
pouring cream
METHOD:
Preheat oven to 180°C.
2. Crush the biscuits into crumbs and place in a bowl.
3. Pour the melted butter over the crumbs. Press into a 20cm springform cake tin to form the base.
4. Place the chocolate in a bowl over barely simmering water and melt, making sure the water doesn't touch the bottom of the bowl.
5. Place the cream cheese, ricotta and caster sugar in a food processor and blend until smooth.
6. Next add the eggs, then the cocoa powder and the melted chocolate.
7. Spoon the mixture onto the base.
8. Place the cake in the oven and cook for about 45 minutes, or until the cake is springy to the touch.
9. Allow it to cool in the tin.
10. When it's cool, turn it out of the tin and top with chopped or grated chocolate and a dusting of cocoa.
11. For the sauce, place the chocolate and cream in a bowl over a pan of simmering water and melt, making sure the water doesn't touch the bottom of the bowl.
12. When melted, whisk in the butter.
13. The sauce must be prepared just before the cake is served – it can't be reheated.
14. Serve large slices with grated chocolate and a big spoonful of sauce and cream. Dust the edge of the plate with cocoa.
Always remember
… Food Is Love …
For more "love-filled" recipes, do not forget to subscribe to my blog.
Follow me on the following Social Media platforms:
Facebook: MasterChef SA Claire Allen
Twitter: @claireallen_sa
Instagram: @claireallen_sa